Inspiration • Cement tiles for the kitchen
Counters & backsplash
We love cement tiles for kitchen counters and backsplash because it becomes the focal point of the kitchen and sometimes even the entire house with an open-space concept.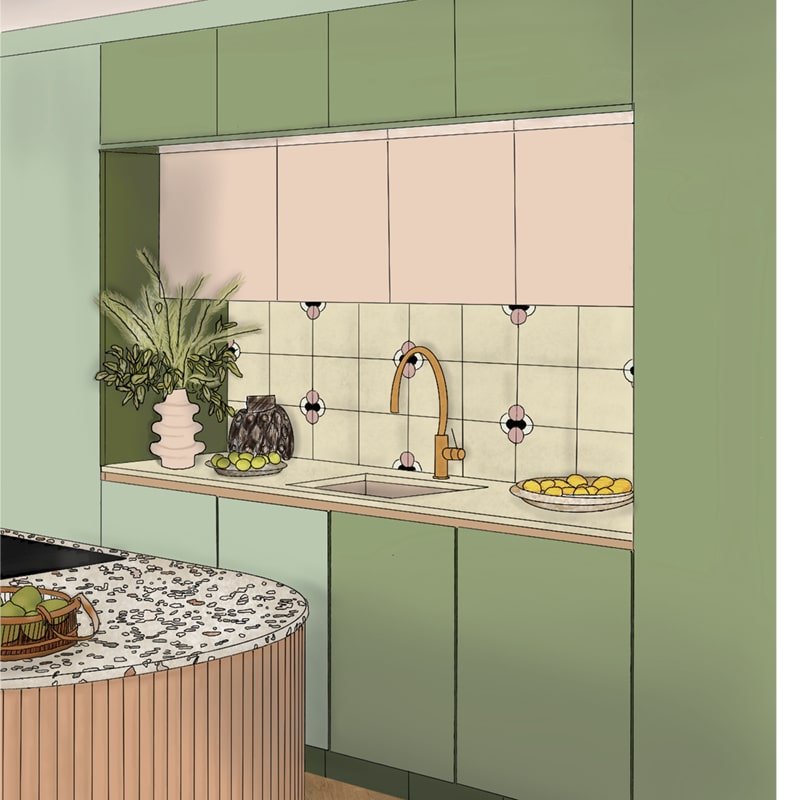 Our whole collection
Kitchen floors
Living and working space, the kitchen and its floors are a high-traffic area. Stains of all sorts frequently occur – shoes, sauce, cooking oils, wine, dressing… Kitchen floors require careful attention.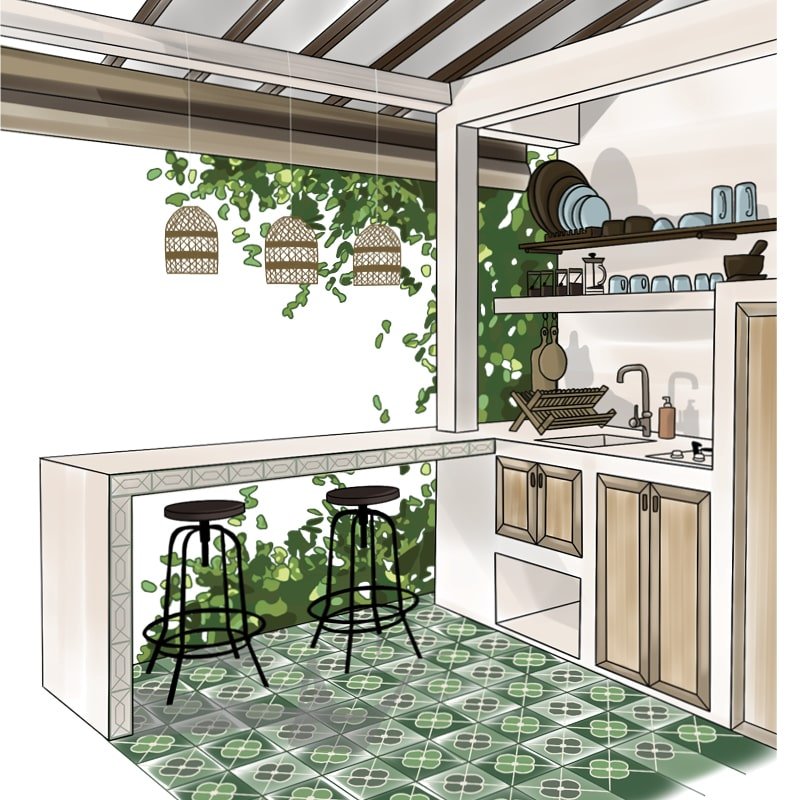 Our whole collection
Our cement tiles for your kitchen
The kitchen is one of the most important rooms of a home. Working space, but above all, a place for sharing, mingling and relaxing, the kitchen is often where the family spends time together while dinner is simmering and where they enjoy a meal together. It is also a room to have drinks with friends while putting the finishing touches before sitting at the table. Finally, more and more, this space is open to the living room or dining room and, therefore, readily visible. For these two reasons, the kitchen deserves special attention. Cement tiles are highly suitable for kitchen use because of their qualities and the multitude of options they offer. From a decoration perspective, the kitchen easily allows for splashes of colours and shapes because of the surrounding presence of more monochrome cabinets and appliances. Therefore, multiple solutions are available since kitchen tiles can be installed on floors, walls, counters and/or backsplash.
Traditional kitchen with cement tiles
For a traditional kitchen, choose a single pattern throughout the space from our historical collection. Do you think it will be too heavy? Install your desired pattern on walls or counters, and finish the room with coloured tiles in similar shades as the motif. Is the floor patterned? Pick a solid colour for the counters. Do you prefer patterned cement tile counters and backsplash? Then choose solid colour cement tiles for floors. You can also add patterned tiles at random throughout a solid colour section, which will link back to the pattern. Finally, to preserve a traditional look, ensure your backsplash is high enough (60 cm or more).
Contemporary kitchen with cement tiles
Do you prefer a spark of modernity to spike up your kitchen? Choose bright colours and contemporary patterns. Do not hesitate to mix up the motifs and even go one step further by opting for one of our ready-made patchworks. You can also select modern shapes and install them diagonally or scattered. Finally, remember that a modern backsplash is usually shorter (less than 40 cm).
Protection of your kitchen cement tiles
At CAROCIM, you will find all the models to create the atmosphere of your dreams. The devil is in the details! Remember to pay special attention to lighting for a stellar, finished look. Avoid shadows projected on the counters. And last but not least, the CAROCIM tile is a calcareous and porous natural material that does not like oils, that it absorbs, nor acids, that burn it. So remember to seal and protect the tiles adequately with the specific products we recommend preventing oil stains, that darken the tile, or acids such as vinegar or lemon, that lighten the tile. You will find our installation and care instructions on our website. Follow them thoroughly, and your kitchen will last for years!
Summer Kitchen with Carocim
Carocim cement tiles are an excellent choice for your summer kitchen. They are easy to clean, resistant to moisture and stains, and can be customized with a variety of patterns and colors. Additionally, cement tiles can be installed on walls or floors, allowing you to create a unique look for your summer kitchen.
Here are some of the advantages of using cement tiles for a summer kitchen:
Easy to clean: They are very easy to clean, which is ideal for kitchens that need to be kept clean and stain-free.
Stain-resistant: Cement tiles are resistant to stains, making them perfect for kitchens that tend to get dirty quickly.
Durable: The tiles are extremely durable and can withstand impacts and scratches.
A summer kitchen with cement tiles is an excellent choice for anyone who likes a clean and elegant surface.
Also, discover our selection of cement tiles for the bathroom and our beautiful cement tiles for the walls of your home. Our products are perfectly suited for both indoor and outdoor use. Visit our inspiration pages on cement tiles for the floor and cement tiles for outdoor areas.