Inspiration • Carreaux • Table
Your garden table with cement tiles
The garden table is the essential element of your terrace. You will sit down around it with family and friends for a barbecue or a summer salad, accompanied by refreshing drinks and rosé wine (in true Provencal manner!), shaded from the sun by a pergola or awning. We can almost hear the cicadas in the background just thinking about it. Discover our cement tiles for your garden table.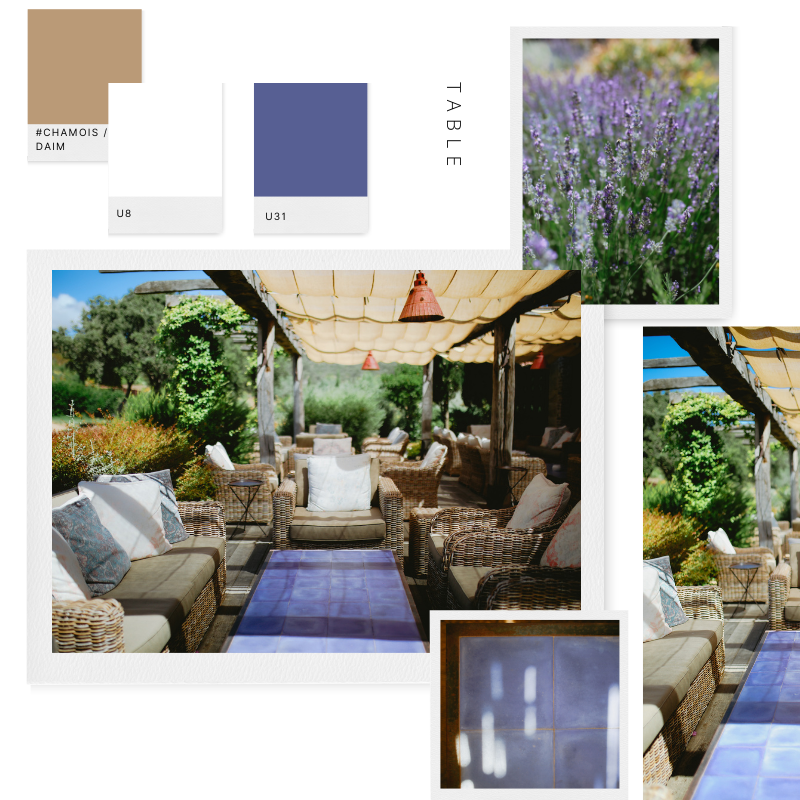 How to create an outdoor use table with cement tiles? 
This table is the place that brings us together for magical and unforgettable moments together. Those tables are so important that they are often passed down from generation to generation. Beyond being functional, the garden table can also become a decorative piece when giving it a little extra attention. Cement tiles are particularly suitable for renovating vintage garden tables. Use the old family table or thrift one you like and keep the legs and top. If the latter is too worn, replace it with a hydrophobic wooden board, marine plywood being the best option. 
Then choose your cement tiles. Solid or colored, traditional or contemporary, any pattern will brighten up your future table. You can use a single motif or assemble several. Keep it tone-on-tone or mix all the colors according to your desired look. Start by laying the tiles on the tabletop to mockup your pattern, and when you are happy with it, glue the tiles. You can also add a patterned or colored border around the table. Make sure to follow our installation and care instructions and treat the tiles adequately to avoid future staining. If you accidentally spill acidic products, such as lemon juice or vinegar, clean the table immediately to prevent burning the tiles.
To preserve sheen, store your table in the shade or treat it with a UV-resistant resin. However, if you want to give an antique look to your table, saturate the tiles with greasy stains and acidic products and leave it for a while in total sun exposure. We recommend that you test this beforehand on a single tile to ensure you get the expected results.
You will then have an outdoor table covered with cement tiles, which will add an incomparable touch to your garden or outdoor decor. Your table will be as unique as your taste and preferences in terms of decor. Your table will then reflect your personality, especially thanks to the choice of cement tiles you will use.
Discover our color harmonies with our selections of black and white, gray, blue, green, or red cement tiles to inspire you.