Inspiration • Grey Cement Tiles
CAROCIM grey cement tile
Grey was initially a dull colour associated with loneliness, sadness or even depression. As Pierre Dac said, "If grey matter were pinker, the world would have fewer dark thoughts." Grey is now considered a neutral colour representing concentration, precision, and unity. Discover our grey cement tiles.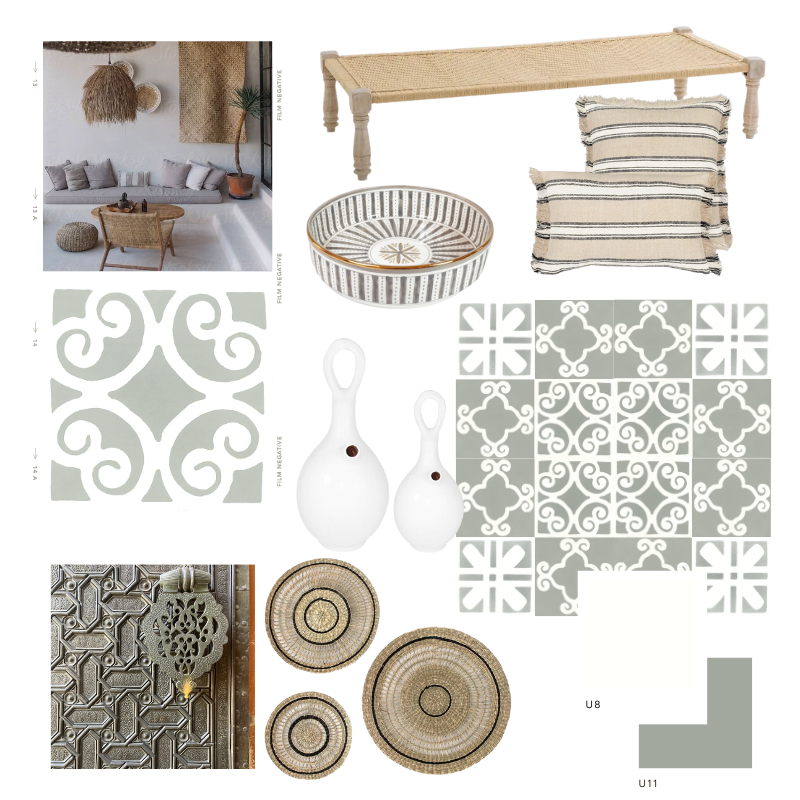 Grey Cement Tiles
Its spectrum is very wide, from pearl grey to anthracite grey which then refers to the metal element. It then becomes cold, but timeless and gives a touch of sophistication. Grey has the main quality of highlighting and enhancing other colors, even neutral ones like stone or sand. Too present, it causes boredom to see doubt. Light, it adapts to large spaces. Too dark, it can quickly become sad.
Grey cement tiles instantly transform a dull and boring space into something alive, giving it a vibrant look, no matter its size or shape. Whether you want to renovate the floor of your kitchen, the walls of your bathroom, the ceiling of your living room or the floor of your hallway, grey cement tiles may be just what you need! Read on to find out why this trendy material is becoming a top choice for interior designers.
Why Choose Grey Cement Tiles?
Grey cement tiles have become a popular trend in interior design. This is largely due to their versatility and design versatility. Whether you are looking to create a minimalist and contemporary look, or you are looking for a more rustic and traditional atmosphere, there is a variety of grey cement tile styles to suit your needs. In addition, their simplicity allows them to easily adapt to different types of interiors, whether it is a comfortable living room or a modern kitchen. In short, grey cement tiles add elegance and personality to any living space.
Pairing Grey and White Cement Tiles
Pairing grey and white cement tiles can give a chic and modern style to any room in your home. These tiles can be combined in different configurations, such as geometric patterns or stripes. The small touches of patterns in the tiles, even the simplest ones, can add interest to a room while remaining subtle. Grey and white cement tiles go well with different colors and textures, offering a neutral color palette that can be highlighted by contrasting accessories and furniture. So, get creative and create a modern and sophisticated aesthetic in your home by pairing grey and white cement tiles!
Pairing Grey and Black Cement Tiles
Pairing grey and black cement tiles can seem a bit intimidating at first, but the result is definitely worth it. By using these two inspiring colors, you can create a modern and elegant atmosphere that will surely be noticed by your guests. You can use them to create a classic and timeless checkerboard floor or create a more complex pattern to add a touch of originality to your bathroom or shower. Don't underestimate the power of color combination: by pairing grey and black cement tiles, you can bring your space to life and make it more elegant than ever.
After examining the different possibilities of using grey cement tiles, one thing is for sure: grey cement tiles are versatile and have become a staple of modern decor. Whether your style is classic, contemporary, farmhouse, or industrial, there is a grey tile that will perfectly suit your interior. Thanks to the multiple color combinations available, from grey to white to grey and black, you are sure to find the perfect combination for your space. It's no wonder that these tiles are becoming an increasingly popular choice for designers and homeowners! If you are looking for high-quality and durable tile, grey cement tiles offer both aesthetic elegance and practical durability, making them an excellent addition to almost any interior design project.
Beige Cement Tiles
Soft and simple at the same time, it is perfect for all surfaces, large or small. Promoting relaxation, it is predestined for quiet rooms: bedroom, library, living room. It has a very wide spectrum that goes from off-white to light brown. Inside, it will adapt to almost all universes and will easily associate with other colors (white, grey, pink...) that it will highlight. Outside, the beige cement tile will recall the reflections of the sand and will give a very natural side to your terraces. Beige is a hue that easily replaces white, but be careful, it has the same drawbacks: too present, it can tire, and even signify a lack of personality or creativity. Beige is a color that is very sought-after in our collections, so don't hesitate to look for the different patterns using it.