Inspiration • Blue Cement Tiles
Blue cement tile
Reminding us of water or sky, blue represents one of the four natural elements. Having long been the colour of kings, blue evokes strength and privilege. Discover our selection of blue cement tiles.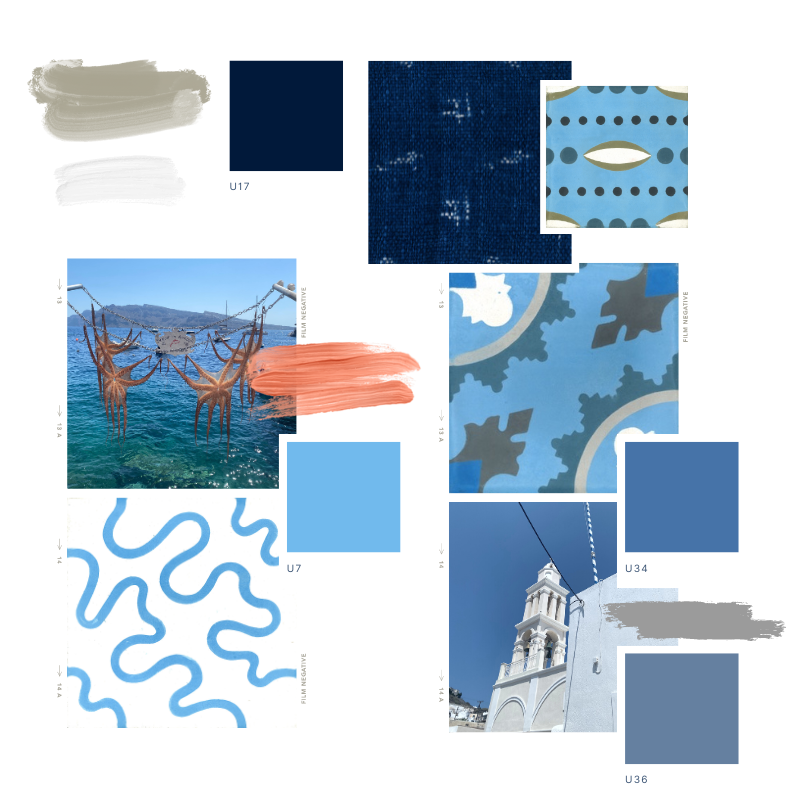 Blue Cement Tiles
Blue is a color that is often associated with the police, order, and respect. In a light tone, blue is associated with health, wisdom, faith, and healing. In a darker tone, it becomes synonymous with power and intelligence. For living spaces, prefer lighter, more relaxing blues. More stimulating, darker blue will be reserved for creative spaces, such as workshops or offices. Historically rather reserved for boys, this color is becoming more democratic and girls no longer hesitate to wear it.
Cement tiles are the latest trend in interior design. They offer a unique and timeless aesthetic that is perfect for both modern and traditional interiors. With our blue color palette and vibrant patterns, blue cement tiles catch the eye wherever they are placed. Blue cement tiles offer not only an attractive visual appeal, but they also have durable properties that make them ideal for use in high-traffic areas. Whether you choose to install them throughout your home or simply as an accent element in a room, these stylish tiles can bring a new look to any space. Consider incorporating beautiful blue cement tiles into your next home improvement project - you'll love the results!
Teal Cement Tiles
Teal cement tiles are a bold and elegant choice for any space. Their rich, vibrant color adds a touch of sophistication to any room, whether it's a kitchen, bathroom, or entryway. Their unique and intricate patterns are also an interesting design element that draws the eye and adds depth to the space. While they are a more expensive flooring option than other options, duck egg blue cement tiles are worth every penny thanks to their durability and remarkable appearance. If you're looking to add a little panache to your home, go for duck egg blue cement tiles - you won't regret it.
Navy Blue Cement Tiles
Dark blue cement tiles are one of the most elegant choices for floors and walls in modern homes. Their deep, rich color adds a touch of sophistication and modernity to any room. Additionally, their unique texture and durability make them particularly well-suited for high-traffic areas in a home or office. Whether you're looking to dress up your kitchen, bathroom, or entryway, dark blue cement tiles are a fantastic option for creating a warm and welcoming atmosphere while expressing your sense of aesthetics. These stylish tiles are sure to leave a lasting impression on everyone who sees them.
Light Blue Cement Tiles
Light blue cement tiles are the perfect solution for adding a touch of sophistication to any living space. This calming color can transform a room into a haven of peace while creating a refreshing and bright atmosphere, which is why we recommend them in living spaces. Whether you use them to accentuate a wall in your kitchen or to cover your floor, these tiles will bring a touch of modernity and class to your home. And with their incredible strength, they promise long-term durability that will allow you to enjoy their timeless beauty for years to come. Light blue cement tiles are not only beautiful, they are also practical and timeless.
Gray Blue Cement Tiles
Gray blue cement tiles offer a unique and elegant style to any room. Their mosaic design adds an artistic touch to your space, while being subtle enough not to be overwhelming. The gray blue color brings a sense of serenity and sophistication, allowing you to create a relaxing and calming atmosphere in your home or business. These cement tiles are also known for their durability and ease of care, making them totally practical for high-traffic areas. Give your room a refreshing and timeless atmosphere with gray blue cement tiles.
How to match blue cement tiles?
Matching blue cement tiles can seem daunting at first, but there are several options to create a harmonious look. If you're looking to create a bright space, consider pairing blue tiles with lighter, neutral tones, such as white or beige: for example, for a modern style, opt for a kitchen clad in duck egg blue and white tiles. This combination will give a subtle contrast while not losing sight of the fresh and modern look of the tiles. For a bolder look, consider pairing with brighter shades such as yellow or pink, or even floral patterns to play with the patterns. The key to matching blue cement tiles is to find a balance between colors and patterns to create a look that you like.
In conclusion, blue cement tiles are incredibly versatile and can be used to create interesting visual effects in a variety of applications. They are available in a wide variety of shades and shapes (such as hexagonal duck egg blue tile, for example), which makes them ideal for projects such as creating a kitchen or bathroom, mosaics, accent walls, or patterned floors. To match different blue cement tiles, consider the size and tone of your project to create a consistent look. By combining and placing the tiles correctly, you can achieve amazing results that will transform any space.