Inspiration • Red & Burgundy Cement Tiles
Red hot interiors with CAROCIM red cement tile
Red is the colour of action. It refers to the fire element. It is therefore powerful, radiant, lively, and dynamic. Discover our selection of red cement tiles.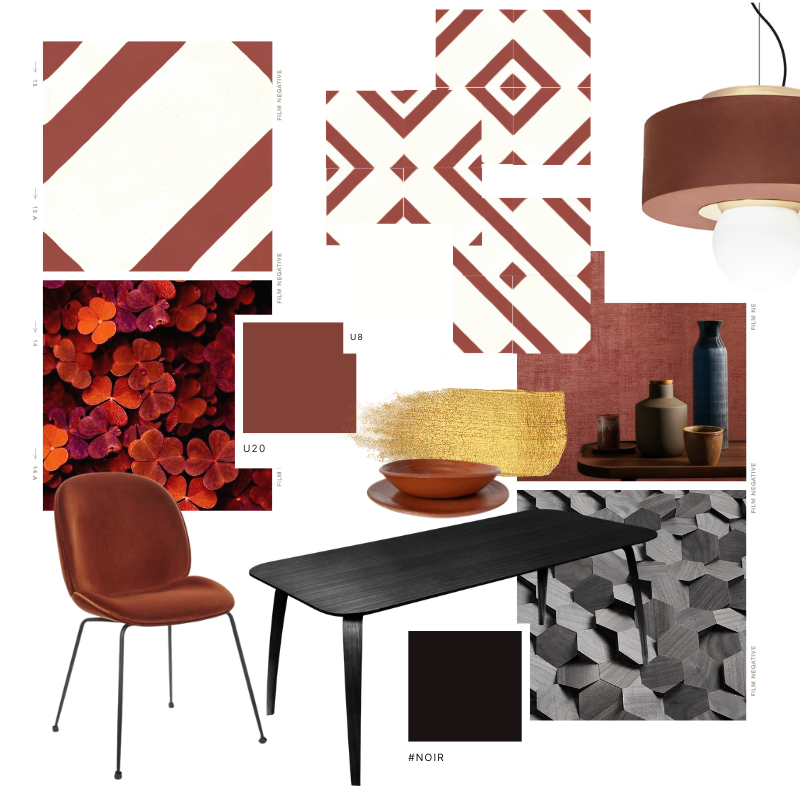 Why choose red cement tiles?
Are you looking for a simple and affordable way to give your home a touch of style and classicism? Red cement tiles are the perfect choice for those who want to transform their living space into something truly magnificent! With their unique texture and vibrant color, red cement tiles offer a luxurious look without effort, while being extremely durable. Not only do they enhance any interior decorating style, but they also offer amazing benefits in terms of heat retention, water resistance, low maintenance, and overall durability!
Why pick red cement tiles for renovation projects?
In the field of renovation, it is important to choose the right colors to create a warm and inviting atmosphere in your home. Red cement tiles are an excellent choice for renovation projects, as they add a touch of vibrant and bold color to your interior décor. These tiles also have the ability to give a rustic look to your home, which can add a warm and welcoming atmosphere to your space. In addition, these tiles are very tough and durable, making them an ideal choice for high-traffic areas such as hallways or entryway. So why not opt for red cement tiles for your next renovation project?
Our design ideas for laying red cement tiles
Red cement tiles are a bold and vibrant choice for interior décor. To create a chic and contemporary style, try arranging them in geometric patterns. You could also consider using a mix of red and white cement tiles to create a stunning visual effect. If you prefer a more traditional style, consider laying red cement tiles in a floral pattern. The possibilities are endless with red cement tiles: let your creativity run wild to create a unique and beautiful space.
How to match red cement tiles with décor?
Red cement tiles can seem a bit intimidating to match with the décor of your home. However, with a little planning and inspiration, you can create a warm and inviting atmosphere. One idea is to create a contrast by matching red cement tiles with lighter colors such as white or beige. You can also play with different patterns by adding fabrics or accessories that recall the color palette of the tiles. Don't be afraid to experiment with different textures and materials, such as green plants or wood, to create a unique and electric look. With a little creativity, red cement tiles can be a spectacular addition to any room in your home.
Burgundy and bordeaux cement tiles
Tile is an important element of any home. If you are looking for an option that adds color and personality to your space, look no further than red cement tiles. With their different shades and styles, these tiles can transform any room into a unique and elegant space. Whether you are looking for a geometric pattern for your kitchen or a more rustic look for your patio, there is a variety of red cement tiles to suit all tastes and needs. Create a vibrant and warm atmosphere at home with these timeless tiles.
Red cement tiles are the perfect way to give a new lease of life to any renovation project, with endless design possibilities. They are easy to lay and come in a wide variety of shades and styles, which allows for varying décor options. Not only are red cement tiles beautiful when incorporated into interiors, but they also add important functionality to floors, walls, bathrooms, and kitchens. By combining red cement tiles with traditional décor styles, you can create unique and timeless styles that will last for years. Whether you are looking for a sober style or a more modern and eye-catching style, red cement tiles are sure to have exactly what you need for a successful renovation project.