Inspiration • Cement tiles for walls
Our cement tiles on your walls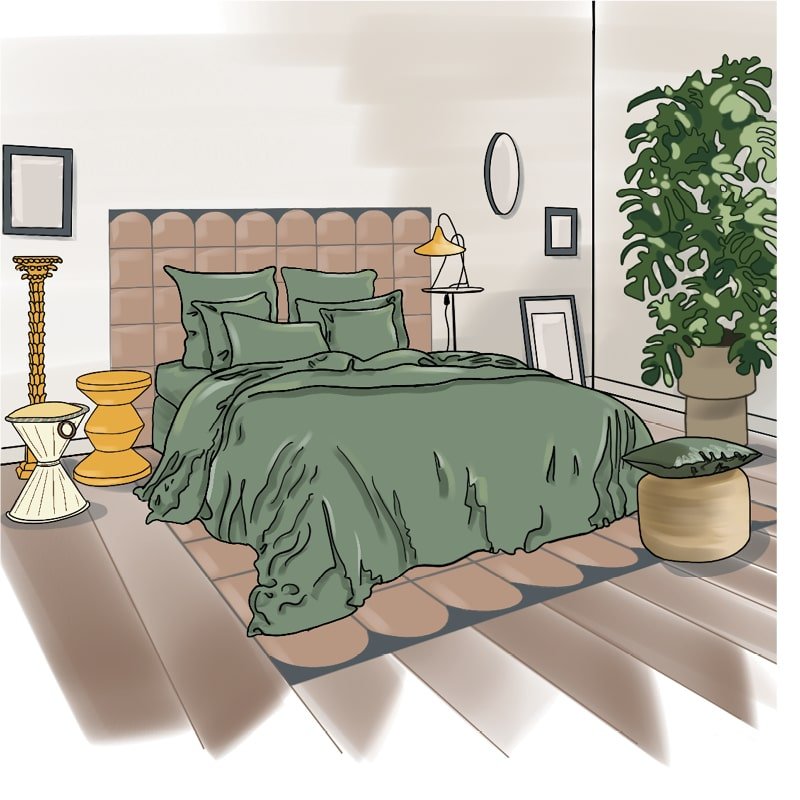 Why use cement tiles on walls?
Cement tile s a great wall covering for all types of interiors and exteriors. It is easy to install, solid, and above all, it gives an inimitable style to your decoration.
Cement tile history
Cement tile is an environmentally friendly and sustainable construction material used since the 19th century. It is composed of cement, sand, and water and is coloured to create unique decorative patterns. The Art Deco style of the 1920s and 1930s popularized its use as a raw material for wall mosaics and inlaid floors. Art Deco's bold and colourful geometric patterns are still trendy today, and tile is still widely used in contemporary interior design projects.
It is an elegant and timeless material that can be used in various rooms of the house. It brings a unique and original touch to any space of your interior.
Cement tiles for kitchen walls
The kitchen is a room where cement tile is a clever solution for various surfaces. Kitchen walls are in direct contact with food and utensils; therefore, it is necessary to cover them with a material that is easy to maintain and resistant. That is why cement tiles are a good option. Discover our selection of kitchen tiles.
Cement tiles in the living room
The atmosphere of your living room often reflects your personality and therefore deserves your full attention. The living room is a room where you spend a lot of time. It is also the room where you receive your guests. With Carocim, you can create a unique atmosphere in your living space. The tiles can be placed on a single wall of the room to play with the contrasts of colors and lights.
Bathroom walls with cement tiles
The bathroom is a room that is constantly exposed to the elements and humidity. It is, therefore, essential that walls and floors be well-protected. Cement tile is once again ideal in this room, as it resists moisture and stains and is very easy to clean after each use. Discover all our bathroom cement tiles.
Cement tiles for bedroom walls
Create the bedroom of your dreams with CAROCIM! Make this room essential to your well-being, a small haven of peace and relaxation where you can rest freely. With cement tiles on one or multiple walls, you will create a unique space that reflects your personality. 
In addition, cement tile is an excellent thermal insulator, which keeps the bedroom cool in the summer and warm in the winter. And as it offers excellent soundproofing, it creates the perfect quiet and calm atmosphere in your bedroom.
Cement tile is a contemporary and elegant material that you can use in various rooms of your home. Preparing the surfaces well before installing the tiles is essential to ensure good adhesion and avoid cracks. We invite you to read our installation and care instructions.