Inspiration • Cement Tiles • Green
Green with – cement tile – envy!
Green, the colour of nature, evokes the vegetable kingdom and, more recently, ecology. It represents serenity and is synonymous with growth, renewal, and smooth change. Soothing, green inspires confidence and will act as an anti-stress. Discover our selection of green cement tiles.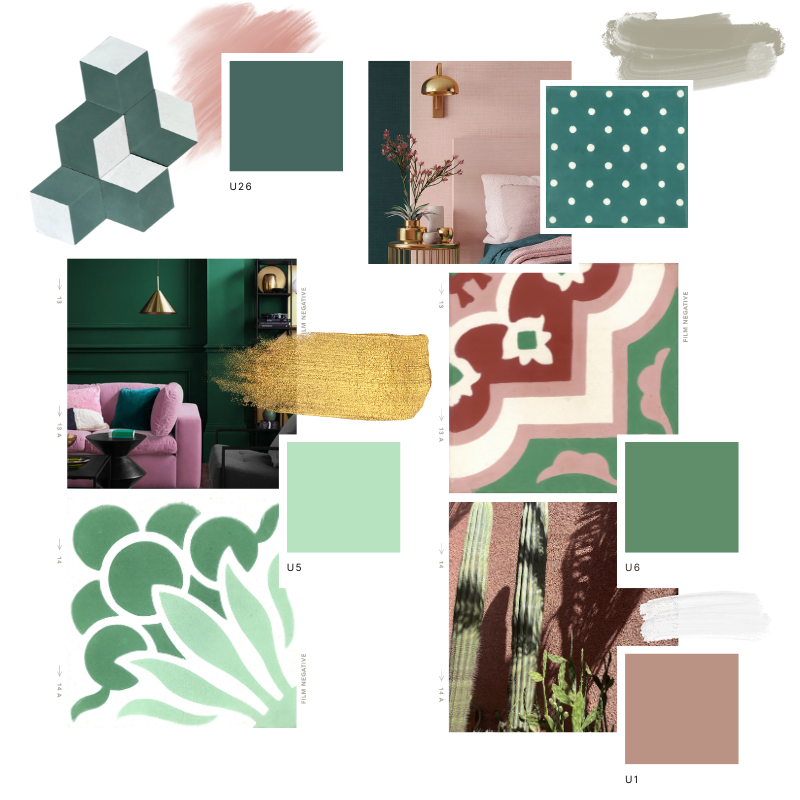 Why Choose Green Cement Tiles?
If you're in search of the perfect tile to complement your home and give it a unique style, green cement tiles should be at the top of your list. Not only are they beautiful and functional, but they also offer surprisingly impressive benefits that make them an ideal addition to any room in your home. Discover why green cement tiles might be the perfect choice for you!
The Meaning of Green
Green is a fascinating color that symbolizes nature, growth, stability, and hope. In fact, it's often considered the most soothing color for human eyes, as it evokes tranquility and the natural harmony of our environment. Moreover, green also holds specific cultural meanings in different regions of the world. For example, in China, green is associated with growth and luck, while in Western cultures, it's often used to represent spring and renewed hope. In summary, the meaning of green can vary in different contexts, but this color remains an important element in our daily lives and artistic vocabulary.
The Advantages of Seafoam Green Cement Tiles
Seafoam green evokes the subtle blend between the color of water and the plant world. Timeless, it combines two very important and soothing elements, offering an alchemy of nature and sophistication. This shade naturally creates a relaxing and spring-like ambiance. Its softness allows it to be used throughout the house, from floor to ceiling. It's a color that we have recently introduced in our collections, to our great satisfaction, and we hope yours as well.
Green Cement Tiles in the Entryway
When we think of the entryway to our homes, we often envision a welcoming and warm space. Green cement tiles are an excellent option to bring that touch of warmth and uniqueness. Their vibrant color brings life to your home and can be paired with various decorative elements. Additionally, cement tiles are durable and easy to maintain, making them a practical choice for high-traffic areas. By choosing green cement tiles for your entryway, you'll add a unique touch to your home and welcome your guests in style.
Green Cement Tiles in the Kitchen
There's nothing more elegant than seeing a shiny green cement tile in your kitchen. If you're looking to add a unique touch of style to your culinary space, green cement tiles are an excellent option. They add character and personality to any room while being incredibly functional. Their rough texture and durability make them a popular choice for modern kitchens. Green cement tiles are also highly versatile, fitting perfectly with different interior decoration styles. They go well with both white and black kitchens, and their natural appeal complements wooden countertops or furniture. Whether you're looking to modernize your kitchen or give it a vintage look, green cement tiles can contribute to your vision. So why not add a hint of color and charm to your kitchen with these unique tiles?
Green Cement Tiles in the Bathroom
Green cement tiles in the bathroom are a bold yet incredibly elegant choice. This alternative to the common blue hue found in many bathrooms will be highly interesting due to its originality and relaxing effect.
Thanks to their soothing color, green cement tiles evoke nature and can add a touch of serenity to the bathroom while creating a contrast with other elements such as white walls. With a slight vintage touch, green cement tiles also add charm and individuality to your home. So, if you're looking to add a touch of color and personality to your bathroom, consider opting for green cement tiles - you won't regret it!
When it comes to green, there are numerous ways to incorporate this color into our homes and businesses. From the entryway to the kitchen and bathroom, using green cement tiles can create a striking visual impact. With all these ideas in mind, it's important to take the time to reflect on the look you want to achieve in your space. Green cement tiles can be an excellent addition to any interior design project, bringing a unique and personal touch that is sure to impress guests and family alike. Whether you prefer vibrant accents or natural earth tones, green cement tiles are just one of the ways to bring life and vibrancy to your home.
Also, discover our gray-toned cement tiles, as well as our red, blue, and black and/or white tiles.