Inspiration • Cement tiles for outdoor use
Our cement tiles for your outdoor space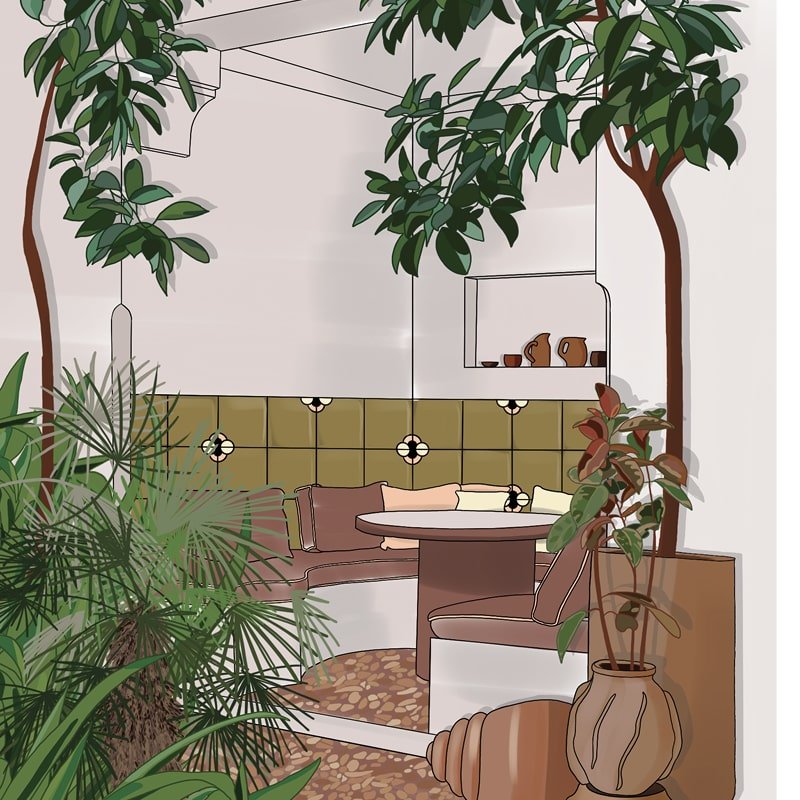 Your terrace or balcony with CAROCIM cement tiles
The garden, the terrace and the balcony are living spaces just like the living room or kitchen. Cement tile invites itself into these spaces for the greatest pleasure of your eyes. They are durable, easy to maintain and can be endlessly customized with our beautiful palette of colours and patterns.
Cement tiles to customize your exterior
Cement tile is an excellent option for terraces and balconies. It is durable, easy to maintain and customizable to suit your style and the atmosphere you want to give your exterior .
Matching cement tile with patio furniture
The floors and walls of your exterior, whatever their size, can be covered with cement tiles. To elevate the decoration of your terrace you can also invest in matching patio furniture. Wood, rattan, metal, or iron rod are noble materials that pair perfectly with CAROCIM tiles. Daybeds, coffee tables, sunbeds, armchairs, and Chilean are fundamental choices to achieve a total makeover of your outdoor space. Exterior lighting should also be carefully selected and positioned to reveal the beauty of the patterns and colours you have chosen.
Cement tiles are durable
Cement is a very hard material, making it an excellent choice for outdoor floorings such as terraces and balconies. CAROCIM tiles are particularly resistant to the weather as well as the sun and wind. They do not fade in the sun, and they do not crack, if they are properly treated. Their incredible strength gives them excellent durability. They are, therefore, economical, ecological, and adapted to external constraints
Combine CAROCIM cement tiles with other materials
Finally, we encourage you to unleash your creativity and mix up materials and textures for your exterior and interior. The beauty of your cement tiles will be enhanced by contrasting them with wood, waxed concrete, travertine, marble, or slate floors.
 Discover our selection of cement tiles for the kitchen as well as cement tiles for the bathroom.