Inspiration • Cement Tiles • WC & Toilet
Why not a powder room with cement tiles?
The relatively small size of the powder room makes it quite easy to embellish at a lower cost, especially since it often houses only a toilet and sink. We regularly spend time there and more than we think! Our guests often make a pit stop there. It is a shame not to pay a little extra attention to this room. Discover our selection of cement tiles for your powder room.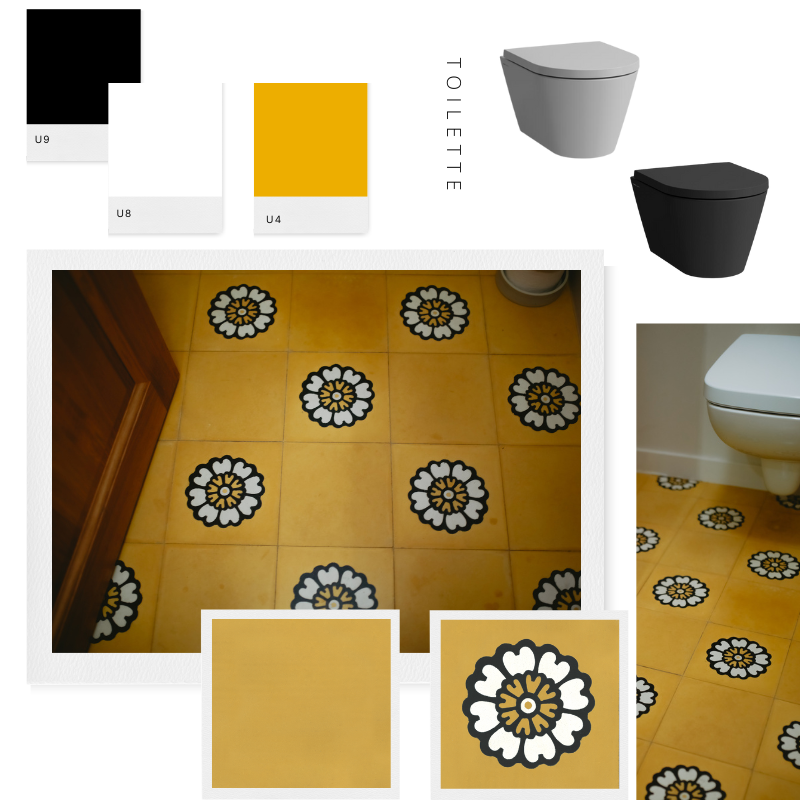 Tile Your Toilet with Carocim
The first objective is to make the room easy to clean. Hydrophobic cement tiles, easily washable with a simple cloth and soapy water, are naturally suitable. To achieve this, be sure to follow our installation and treatment advice, which can be found in our specific guidelines.
The second objective, in the case of a wall-hung toilet, is to reinforce the plasterboard plate behind which the toilet rests. Once again, due to its rigidity and resistance to indentation, cement tiles are highly recommended for wall-hung toilets.
Furthermore, dressing up your toilet with cement tiles brings life and personalization to a room that is often dull and soulless. You can choose to use a single pattern for the floor and wall, or mix them to create a more dynamic space. In the toilet, we recommend choosing darker patterns for the floor to conceal stains as much as possible and balancing it with brighter paint. Choosing a darker paint for a more subdued overall look also works, depending on your preferences. Lastly, we can only advise you to choose patterns that captivate the mind and allow it to wander during those short moments.
Tips for Decorating Your Toilet with Cement Tiles
It cannot be emphasized enough that toilets are an important part of the house. Therefore, it is essential to decorate them well! Here are two tips for decorating your toilet with cement tiles.
1. Choose the right cement tile for your toilet
There are several factors to consider when choosing cement tiles to decorate your toilet. First and foremost, choose a cement tile with a pattern that you like and that complements the rest of the decor. There are many different patterns available, so take your time to make your choice.
Next, consider the color of the tiles. Our catalogs offer a wide range of colors, so try to find a color that will blend well with the rest of the decor. If you're unsure which color to choose, opt for a neutral tile like gray or beige, as it's a safe choice.
Lastly, consider the size of the tiles. If you have a small toilet, opt for smaller cement tiles.
2. Play with the colors of the cement tiles in the toilet
In terms of decoration, toilets are often not considered a priority. However, it is possible to transform this space into a pleasant and welcoming area by playing with colors.
Cement tiles are ideal for creating a graphic effect in the toilet. Light shades like white or beige will make the color of the tiles stand out while bringing a touch of brightness to the overall space. For a more modern and daring look, you can play with contrasts by opting for black or dark gray tiles.
Adding a few plants can contribute to creating a serene atmosphere in the toilet. Green plants are particularly recommended as they purify the air and bring a refreshing note to the room. You can choose succulent plants that do not require frequent watering, such as aloe vera or cacti.
Lastly, it is important to provide adequate lighting in the toilet to avoid creating a dark or suffocating effect. Recessed spotlights in the ceiling are perfect for diffusing soft and subdued lighting while highlighting various decorative elements.
Also, explore our inspirations for creating a cement tile staircase or an entryway to decorate the first room of your interior. For the exterior, we recommend checking out our guide on creating a cement-tiled garden table.