Inspiration • Tiles • Entryway
Your entryway with cement tiles
The entryway of your home or restaurant sets the tone. Make a grand entrance with cement tiles!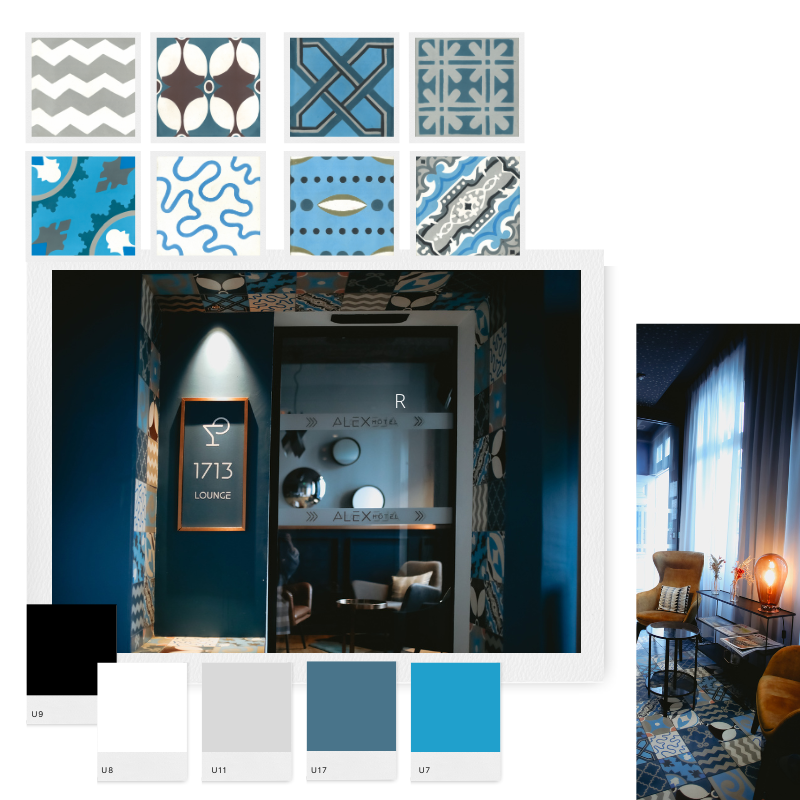 Create a Stunning Entryway with Carocim Cement Tiles
Just like when you meet someone for the first time, your entryway, through which your guests will pass, reveals their first impressions and sensations. And as the proverb goes, you only have one chance to make a good first impression. If it's pleasant, we're eager to explore further. If it's uninviting, we feel like turning back.
Therefore, it's important to take care of this space, which is sometimes neglected. Moreover, these spaces are becoming smaller and need to be functional as well. In addition to a doormat for wiping feet, a service chair for sitting or taking off shoes, a tray for emptying pockets, and a coat rack, it's important to separate the entryway from the rest of the house to conceal its functional aspect. From a decorative standpoint, cherish this space. Cement tiles, in this regard, immediately add charm and authenticity to your home. Choosing to use classic-colored cement tiles or tiles with classic patterns for your entryway gives a glimpse of timeless and well-thought-out decoration.
The most striking example is the 19th-century bourgeois houses with their famous black-and-white cement tile flooring combined with black cabochons, all installed diagonally to enhance the sense of space. On the contrary, selecting modern and varied patterns or colors, opting for a patchwork, announces a contemporary decoration and positions your interior in a definite trend of modernity. You can also use cement tiles to create a rug and mark the entryway.
For this, choose a pattern, place it in the center of the entryway, and create one or two rows of solid cement tiles between the central pattern and the surrounding walls. This rug can be surrounded or not by a matching border to enhance its effect. Lastly, remember that the entryway is primarily a buffer space where we are not meant to stay but can greatly assist us going forward. And to give an impression of a large, bright living room, nothing beats passing through a small, dark entryway.
Three Ideas to Decorate the Entryway of Your Home with Cement Tiles
Your home's entryway should be welcoming and reflect your style. Here are three ideas to decorate the entryway of your home:
Add a personal touch with family photos or vacation mementos.
Create a cozy space with a rug or a small table and chairs.
Choose a beautiful plant for the entryway, such as a ficus or a bonsai, to create a zen atmosphere.
1 — Adding a Personal Touch to Your Entryway with Cement Tiles
The entryway of your home is one of the first things that guests will see upon arrival. That's why it's important to add a personal touch to create a welcoming first impression. Here are some ideas to decorate the entryway of your home and make it more inviting:
Add a plant or a fresh flower bouquet to bring color and life to your entryway.
Place a small rug at the entryway to make guests feel welcome.
If space allows, add a small table or furniture where guests can place their belongings upon entering.
Use lanterns or candles to create a pleasant and warm atmosphere.
Hang a few photo frames on the wall to personalize the space.
Of course, use Carocim cement tiles for a personalized floor and walls. It's a way to assert your taste and personality right from the entryway of your home, with cement tile patterns, colors, or shapes that you like and resonate with you.
2 — Creating a Comfortable Space at the Entryway with Cement Tiles
The entryway of your home is one of the first things your guests will see. It's important to create a welcoming and comfortable space. Here are some ideas to decorate the entryway of your home:
Create an open space: Remove shoes and store coats and umbrellas. The entryway should be a place where people feel comfortable getting rid of bulky items. To achieve this, provide adequate storage such as a wardrobe or cabinet. Additionally, this allows the cement tiles on the floor to be visible.
Add a personal touch: Highlight your favorite decorative objects, such as a console table or a mirror. In addition to enhancing the room, a mirror can give an impression of a larger space.
Choose warm materials: Wood, stone, cement tiles... Natural materials are always more enjoyable to live with than a space that is too sterile. Opt for solid wood furniture or stone accessories to create a warm ambiance, especially with cement tile floors or walls. We assure you that the result will be warm and welcoming.
Play with colors: Light and neutral shades are ideal for creating a soothing space, while warm tones will bring more dynamism to the overall look. Choose the colors that best match the ambiance you want to create! The cement tiles we offer come in a wide range of color harmonies to allow you to choose what you like and what reflects your personality: black and white cement tiles, grey, blue, red, green, or for more originality, patchwork cement tiles combined with sober and plain tiles.
3 — Choose Nice Looking Decorations for the Entryway
A beautiful plant for the entryway of your home can make all the difference. It provides a first glimpse for guests and allows you to add a personal touch to the space. Whether you choose a climbing plant, a shrub, or even a small tree, there are several things to consider before making your choice.
First, consider the exposure of your entryway. Is it sunny? Is there a lot of wind? These factors will influence the type of plant you can choose. For example, sun-loving plants will not survive in a shaded area. Similarly, plants that require a lot of water are not ideal for areas exposed to the elements.
Next, consider the size and shape of your entryway. If it's small, opt for a climbing plant or a compact shrub. If it's large and spacious, you have more freedom in choosing plants. You can even consider adding multiple plants to create a dramatic effect.
Decorating your entryway is essential to create an atmosphere that suits you. If you opt for patterned cement tiles on the floor, choose a more subtle wall decoration, or simply use plain cement tiles on the walls. Conversely, if you have chosen a subtle cement tile for the floor of your entrance, you can then hang more decorative elements on your wall.